<< back to reviews
UGG goes to New York City
By Fred Heghammar UGG.
UGG goes to New York City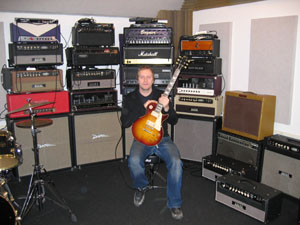 In late February 2004 we had the big pleasure to visit New York for some writing for a Swedish guitar magazine. We were about to do some interviews with Ken Fischer, Gene at Ultrasound, Greenwich guitars, Tony Bruno, Jim Campilongo and many more, so the schedule was very tight. This trip will some day end up in a big article about all the things we did during this stay. But in the mean time we want to give you a short brief and show you some pictures.

As soon as we arrived we went to Greenwich Guitars to pick up a Tele replica that we ordered from Sweden. We met up with Jonathan the builder at his shop in Greenwich, and what can we say. Marvellous guitars! Jonathan is such a great guy and he makes killer guitars.

Next day we headed of to Ultrasound Rehearsal. Gene, the owner, had brought us a few of his own guitars for the try out. As you see on the pictures, Gene got some serious stuff over there. What about this: Gibson Les Paul -58, Gibson 330 -59, Fender Tele black guard -52, Fender Strat -57 and 62 and finally a wonderful Rickenbacker 12 stringed from -66!
For you that have never been to Ultrasound, I must tell THIS IS TONE HEAVEN! Gene got all amps you can think of, stacked under the same roof. We started with the Dumbles and our favourite became quickly Genes Tan Dumble head with the -59 Les Paul plugged in, what a sound. We also tried the Two Rock models, and we tend to like the LTD model. The Tow Rock LTD model is a class A amp built together with Ultrasound and the result is really good.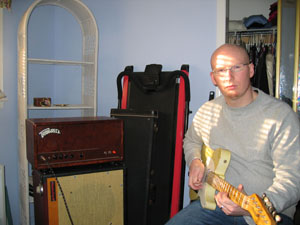 Then we went for the Bruno amps. Tony Bruno is a master designer and all his amps sounds really good. They all got nice shimmer and a huge fat tone. One of the best boutique amps you can get!
Then it was time for the Trainwrecks. We tried Genes Rocket and then the Express and these amps are out of this world! The have everything you can ask for and everything you have heard is true. Full cover on these amps will come shortly.
We also took some time to try out a DR Z, some Carr amps, a Cornford, Roccaforte and the diezel and all those amps sounded great too.
Before we left Ultrasound we tried some of Genes Komets loaded with NOS tubes, it was a huge difference to our Komet with stock tubes. So we bought some tubes from Gene and now our baby sings like she never did before!
We want to thank Gene for a lovely day at Ultrasound. The world really needs guys like him!!!
As we told you in the beginning of this article we were supposed to meet Ken Fischer. But he was unfortunately too ill to see us, due to some dental problems.

The next day we went out to search for goodies in the NY guitar shops. The hunt ended up in purchasing a beautiful white Gibson SG Special from -65.
Later in the afternoon we went to New Jersey to try out a Trainwreck Liverpool at Bob Delrossos house. We had a really good time at Bob's house, killer amps and killer guitars. These Trainwrecks are magic! This wonderful afternoon ended up with a dinner at Bob's house. A big thanks to Bob and his wife!
Next day we did some more Music shops and in the evening we went to see Tele master Jim Campilongo. Jim is such a nice guy and a killer guitarist. If you are in New York, make sure that you visit The Living room to see him play, you won't regret it.

This is a short brief of our four day trip To New York and as we wrote earlier we will write more about the amps we tried later on.

>> Click here for some photos from the trip

Stay tuned
UGG


<< back to reviews